Shank Guards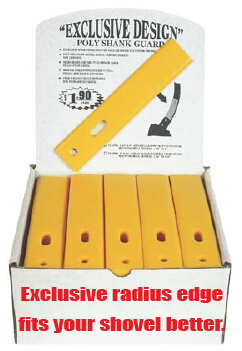 Why fight square, sheared-off shank guards made from scrap?
The radius on the edge of our Poly Last shank guard was designed to fit the contour of your shovel. It goes on easier and stays on better. Re-tighten less often without the worry of a lost shovel.
Poly Tech's Exclusive Radius Design
• Improves soil flow around shank.
• Reduces drag and stress on equipment.
• Protects expensive steel shanks.
• Does not change shovel angle.
• Sheds roots & soil to eliminate large buildups.
Showing all 4 results